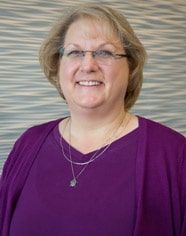 Email: [email protected]
Deanna Amos is a partner with KBST&M and has over thirty years of public accounting experience. She has been with the firm since 1994 and currently serves as the head of the firm's audit department. Deanna's areas of concentration have been in auditing (mortgage industry and non-profit), accounting services, individual and corporate taxation, and estate/trust taxation. She serves many clients in various industries, including professional services, real estate, non-profits, and mortgage lending.
Meet Deanna
"I have pursued this field ever since I took an accounting class my senior year in high school. I enjoy meeting interesting people in a variety of businesses. Many of my clients have done amazing things in the community and in the world, and I value being able to help them. My clients appreciate that I try to make their lives easier by taking care of them. In my spare time, I like to spend time with family and friends, and attend University of Maryland sporting events."
Deanna holds a Bachelor of Science degree in Accounting from the University of Maryland.
Practice Areas
Professional Designations
Certified Public Accountant, 1986
Education
Bachelor of Science in Accounting – University of Maryland, 1983
Memberships & Community Activities
Member of American Institute of Certified Public Accountants
Member of Maryland Association of Certified Public Accountants