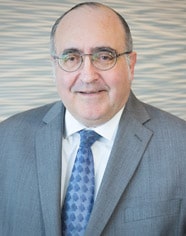 Email: [email protected]
Richard Neuman is a partner with KBST&M and has more than thirty years of public accounting experience. Richard's areas of expertise include tax planning for high-income clients, statutory stock option programs, and various methods in structuring compensation, intricate estate planning issues, passive gain and loss regulations, and charitable contribution planning. Richard has a high-level of expertise in the death care industry and has provided expert testimony to the Maryland State Legislature regarding the funeral industry. He is also significantly involved in real estate issues including IRC Section 1031 like-kind exchanges, corporate acquisitions and mergers, and partnership distributions.
Meet Rich
"My father and one of my brothers are CPAs. I will always remember my father saying to me, "As long as there is a Congress, you will always be employed." How right he was. There are new tax packages every year, even if they are just Technical Corrections. It always stays interesting. One of my favorite things about this job is the people I work with. I know of horror stories from other firms where Partners "backstab" each other and employees are poorly treated, but we have the opposite of that environment. I like that my clients are honest and hardworking people. They ask me to be assertive with tax issues, but never to go past that. They feel that I am reliable and hardworking. A client once told me, "Rich, I can sleep at night because I know that you are staying up to resolve my tax issue." That meant a lot to me. In my spare time I enjoy reading, spending time with the family, and my son introducing me to fishing."
Rich holds a Bachelor of Science degree in Business Management with a concentration in Accounting from Towson University.
Practice Areas
Professional Designations
Certified Public Accountant, 1984
Education
Bachelor of Science in Business Management with a concentration in Accounting – Towson University, 1982
Memberships & Community Activities
Member of American Institute of Certified Public Accountants
Member of Maryland Association of Certified Public Accountants
Maryland State Funeral Suppliers Association
Member Maryland Society of Accountants
Treasurer of Maryland State Funeral Suppliers Association
Funeral Ethics Association, Member
International Cemetery, Cremation and Funeral Association – Supplier, Education and Accounting Services
Tri-County Funeral Directors Association, Member
Past board/committee member of various non-profit organizations